Kat French's sexy summer read perfect for the beach, A SUMMER SCANDAL, is now available with all retailers!
Genre: Romantic Comedy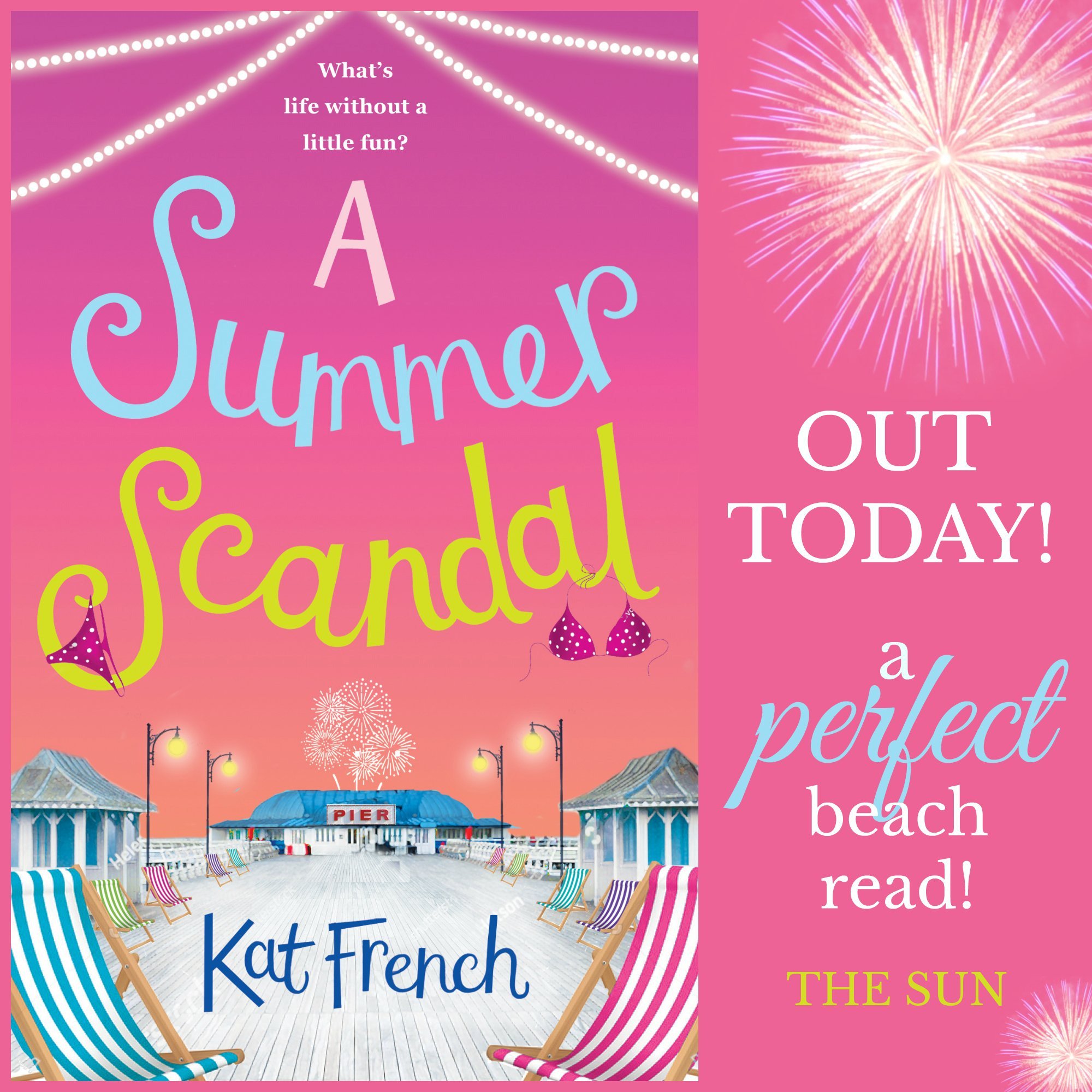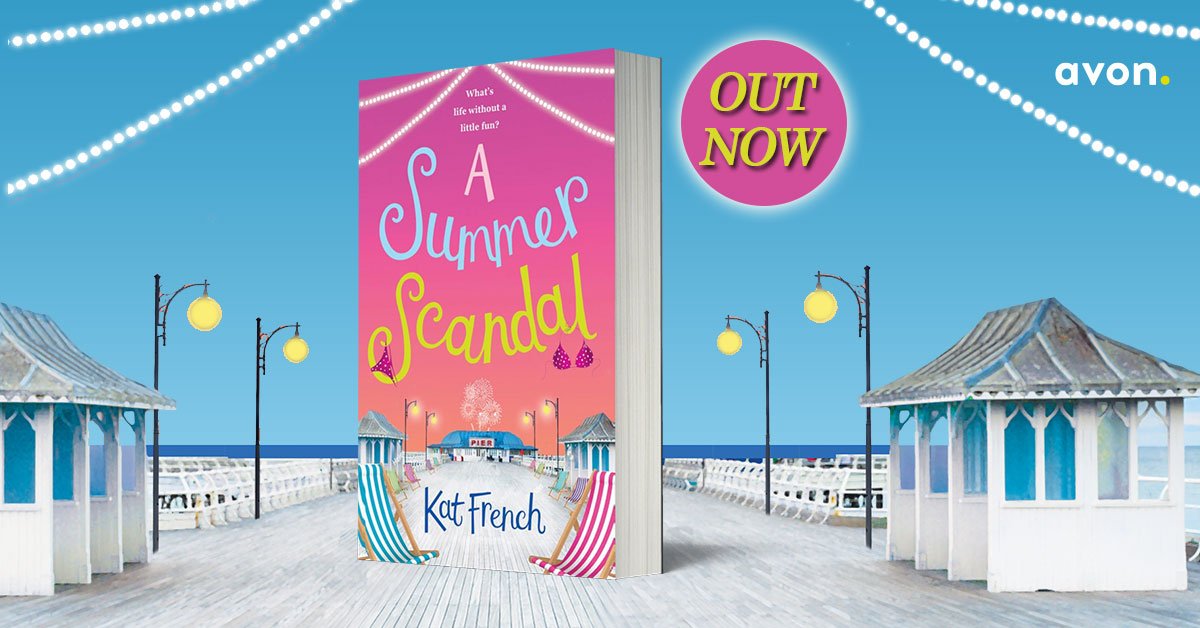 Summer has never been so scandalous…
When Violet moves to Swallow Beach, she inherits a small Victorian pier with an empty arcade perched on the end of it, and falls in love immediately. She wants nothing more than to rejuvenate it and make it grand again – but how?
When she meets hunky Calvin, inspiration strikes. What if she turned the arcade into an adult-themed arcade full of artisan shops?
Not everyone in the town is happy with the idea, but Violet loves her arcade and business begins to boom. But as tensions worsen and the heat between her and Calvin begins to grow, life at Swallow Beach becomes tricky. Is it worth staying to ride out the storm? And can Violet find her own happy ending before the swallows fly south for the winter?
Sexy, sassy and full of heart, Kat French is back in a new summer sizzler.
 ★ ★ ★ ★ ★
Reviewed by Rachel & Sharon Thérèse
A Summer Scandal's title couldn't be more fitting for this fabulous summer read that's going to to keep you glued to the pages. It did us! To say that we found it unputdownable sounds a tad blasé, doesn't it? The best word to describe this standalone romance that had us on tenterhooks has to be GRIPPING! French's story set in a quaint English seaside resort called Swallow Beach we related to with such an ease, it made us smile, swoon and for the joy of a hot summer read, we didn't want it to end. But what we enjoyed more than anything was the author's picturesque narrative of a beach town where nudge nudge, an activity or two take place and its Victorian pier which is in bad need of attention. This, and French's protagonists and her secondary characters alike came alive in our mind's eyes, keeping our interest flowing without let up.
Violet we fell hard for. She's an arty, perky and quirky lass whose traits had us laughing out loud. But more important, her insatiable curiosity and energy to find out why secrets had been buried and bring Birdcage Pier back to life showed us that if you really want to do something irrespective of the obstacles, you can. Of course, by throwing in the local's peculiarities and a drop-dead gorgeous neighbour for good measure, spiced up the read no end. We don't want to let on too much because you really have to discover what made Violet decide to take on such a huge project for yourselves. But what we can say is it's by no means all laughs and tomfoolery. The plot has a strong angsty tone, some tough scenarios making us hold our breaths in desperation to see what the next move would be, left us speechless.
"How could they hate a girl with blue hair and candy-stripe nails?" 
Thought-provoking moments there are, too. Is Violet moving away from a loving home going to worry her parents, especially her mum who's afraid her daughter will open up a box mysterious past goings-on? All is cannily entwined to present times and even though we had a teensy-weensy inkling of the outcome, never did we expect such a nail-biting finale. We honestly felt as if we were watching it on the big screen and just something to think about because this folks, would make one hell of a film!
"Your mum really didn't tell you much at all about this place, did she?"
"Nothing. You were all a big secret as far as I was concerned." 
Observing Violet spread her wings and become her own woman was a delight. Decisions are made with the backing of a motley crew of new friends whose professions are so diverse, you'll laugh your socks off! The part they all play is an important one that's never lacking enthusiasm, solutions and encouragement. Some of their comebacks were cracking and we couldn't help have a special place in our hearts for who would become Violet's bosom buddy, Keris.
"You heard then." "You've ruffled a few feathers all right."
"I don't know how." 
Barty we loved to smitterns. He's a grandpa we'd love to have as ours and Keris knows she's lucky to be related to him. A real character and and a half with his stories to tell, he's also another tenant in the Lido apartment block where Violet resides for the time being. She feels at home in this tight-knit community; however, she does have her doubts that this is the place to settle down for reasons to be revealed. Reasons which are quite shocking and oh boy, did we love the way French had gone all out with a twist we didn't see coming!
"We are a sordid bunch in the Lido, what with you and your floggers and Keris and her saucy knickers." 
Calvin Dearheart. Honestly, how on earth French came up with a name like his is beyond us! And he is a sweetheart. And he's mouth-wateringly good-looking with a great sense of humour to boot, so a hold of your knickers ladies, you're in for a ride on Cal's tide! Nonetheless, he has his problems which will really upset the applecart and get ready for the unexpected…we were floored!
"Right, so now you know who you are, that makes us friends. Now take the flowers, let me help you with your stuff, and then let's gloriously drunk and tell each other our darkest secrets." 
We can't recommend A Summer Scandal more. The pace is fast, the banter between all involved is incredibly witty, and just enough drama and heart-warming scenarios make this book an epic one. Truly unputdownable lol, it's our kind of stuff! We award five stars without a blink of an eye! Bravo French for brightening up our summer!
Meet & Connect with Kat

Slightly less smutty alter-ego of Kitty French, USA Today bestselling smut fictionista. USA Today bestselling author Kitty French writes sexy, escapist reads hot enough to burn your fingers…
The Knight Trilogy has been a best seller around the globe, and is available as individual books or as a complete trilogy box-set.
Regular Sex, nine sizzling individual short stories in one book with a bonus of Knight and Sleigh was published on 26th May.
SIGN UP FOR KITTY'S NEWSLETTER for all the gossip and release information by emailing on kittyfrenchwriter@me.com
Kitty is also the disreputable alter-ego of a romantic comedy writer Kat French.
As Kat, her romantic comedies Undertaking Love, The Piano Man and One Hot Summer are available now.
Kat was born and raised in the heart of the Black Country, where she still lives with her husband and her two little boys.
She grew up with a healthy obsession for books, and several years ago she promised her husband she would write novels if Santa gave her a macbook for Christmas. It's a promise she is very glad to have kept.
Website | Facebook | Twitter | Instagram | Pinterest | Goodreads | Amazon