Title: Drive
Author: Kate Stewart
Genre: Contemporary Romance
Release Date: 13th October, 2017
Cover Design: Q Designs


BLURB
Music . . . the heart's greatest librarian.
The average song is three and a half minutes long; those three and a half minutes could lead to a slow blink, a glimpse of the past, or catapult the soul into heart-shattering nostalgia.
At the height of my career, I had the life I wanted, the life I'd always envisioned. I'd found my tempo, my rhythm. Then I received a phone call that left me off key.
You see, my favorite songs had a way of playing simultaneously. I was in love with one man's beats and another's lyrics. But when it came to the soundtrack of a life, how could anyone choose a favorite song? So, to erase any doubt, I ditched my first-class ticket and decided to take a drive, fixed on the rearview.
Two days.
One playlist.
And the long road home to the man who was waiting for me.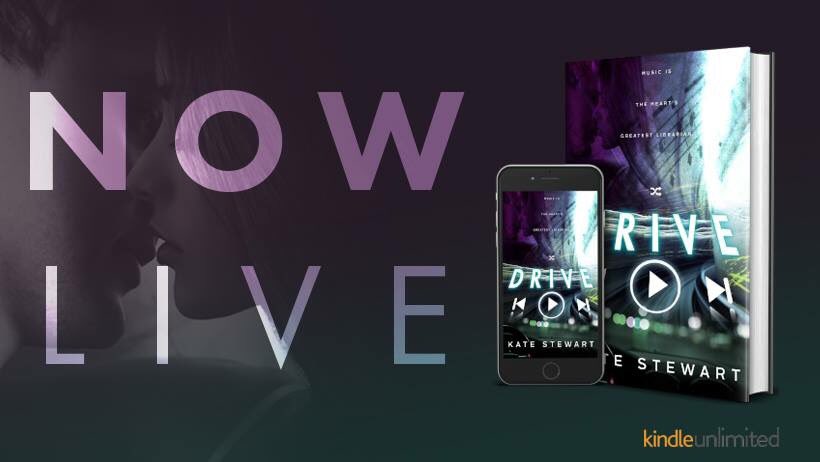 ONE-CLICK TODAY!
Only $2.99 for a limited time!
Free with Kindle Unlimited

★ ★ ★ ★ ★
Reviewed by Sharon Thérèse
Seeing that Drive had been highly recommended to me by my book buddies, I succumbed to one-clicking and to be quite honest, had no regrets whatsoever. But more important, they knew this standalone novel would get me out of the horrendous book slump I was in. This is the first book I've read by this author and I must confess that I had no wish to put pen to paper! What. A. Shocker! Now then; there are two reasons. Firstly, I don't do rock star romances. I have in the past and as they've never grabbed me, I truly didn't know what to expect from this one. Secondly, I just wanted to sit back and enjoy the book and make no notes. Saying that,  I couldn't help but highlight more than one heart-wrenching passage. The beginning of this book was a cruel tease to put it mildly, and having been previously warned to brace myself, to put my big girl panties on, helped little. This complex love story is executed in such a way that it was like going on an unforeseen journey overflowing with emotions…Thoughtfully played out on the author's part, her canny narrative kept me on tenterhooks throughout the book which in itself, is highly commendable and get this, literally knocked me for six!
"I want you in a million different ways, but when you look at me like that, all I can think of is one."
Stella is my perfect heroine. So damn sassy, so loud-mouthed, nosey and so blinkin' unpretentious—whose ambitions were to become a music journalist, managed to weave her very being under my skin at the drop of a hat. She made me gasp, cry and shout out aloud explicits that weren't actually due… You have to get to know this gal knocking on 20ish to appreciate her stance and even when the tough gets going, her positive attitude reflects on how strong she is, her 'drive'.
"I can't believe you're giving up. If you could only for one second, see what I see. Just believe in me," 
I wasn't the only one to battle alongside Reid, a struggling but brilliant drummer. His bestie who was too close to home for my liking, happens to be Stella's older sister and only she and another true friend really knew what he was going through. Consequently, Paige's protective actions had such a devastating effect that I could have bashed her on the head with my Kindle. Of course, the cat isn't let out of the bag until well into the story which made the constant angst unbearable.
'I existed before Reid, lived through loving him, and was left to exist again while knowing what living felt like.'
However unfair true love can be, both Nate and Reid showed me that if you fight enough for it, it is in your grasp. Love is enough for healing, it's enough waiting for, it's irrational and difficult to control. Also, the past influences when it catches up, memories are hard to live with and can too easily break up a relationship. My feeling were totally divided…if I wanted Nate to win Stella's undying affection, I thought Reid deserved her just as much. All these points are extremely well conveyed…not always logical as is in the ways of the heart, but made me see our feelings are indeed on par with the opposite sex. I adored Nate's patience. Winning Stella over was like listening to a game of verbal foreplay, their tooing and froing a pleasure to read. Never mincing words, Nate new what he wanted from word go. Then again, however detached Reid seemed to be, Stella's encouragement silently brought out the best in him. So how on earth this gorgeous gal gets herself into such a love-pickle is for you guys to find out!  
'What was it about a woman's psyche that refuses to let us ignore the old aches, the ancient pains, and the memories of the men we bind ourselves to?'
Flipping the pages at a ridiculous speed didn't sate my need to find out would happen, what was on the cards for these three beautiful people. I was even tempted to take a peek at the ending. Thank goodness I didn't cave in and kept on reading! Reid I had to learn to love, Nate I fell madly for since he could do no wrong. I loved the story's timespan and the spot on
 secondary character development didn't just transport me into their lives, each and everyone of them drove home the influence music has on us. 
Stella's bestie's always in the foreground even when there are miles between them, the band and family members with all their traits, were essential to the making of an unforgettable read. I was bowled over by the interactive playlist that you just have to listen to. The author's taste in music is fabulously eclectic…loved how she melded the songs into the scenes! What more can I say without spoiling this second chance romance for you! Ms Stewart, thank you for swaying my opinion regarding rock star romances. BRAVO!
Meet Kate
Kate Stewart lives in Charleston, S.C. with her husband, Nick, and her naughty beagle, Sadie. A native of Dallas, Kate moved to Charleston three weeks after her first visit, dropping her career of 8 years, and declaring it her creative muse. Kate pens messy, sexy, angst-filled contemporary romance as well as romantic comedy and erotic suspense because it's what she loves as a reader. A lover of all things '80s and '90s, especially John Hughes films and rap, she dabbles a little in photography, can knit a simple stitch scarf for necessity only and does a horrible job of playing the ukulele. Aside from running a mile without collapsing, traveling is the only other must on her bucket list. On occasion, she does very well at vodka.
Follow
Kate