We're so excited to be able to share Remy Blake's hot new release with you, Clipped!!!
Genre: Erotic Romance Novella
Cover Design: PopKitty Design
Release Date: 

July 18, 2017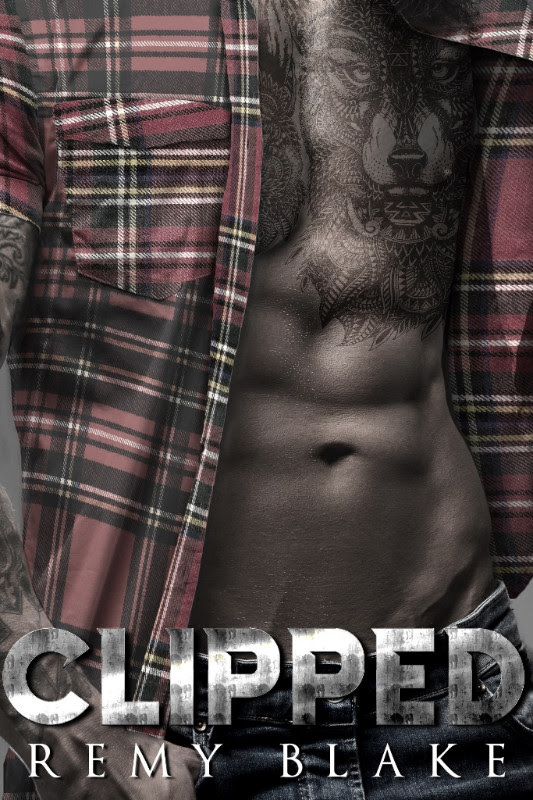 BLURB
When I left my hometown, I had no plans to return. New city – new me.
But when a family emergency brings me back home, I'm forced to pack up my life and take the only available job.
Wesley Steele is the owner of Good Wood Tree Removal Inc. and the boss from hell. A typical lumberjack, he's bearded, arrogant and offensive. He's everything I despise in a man. I want nothing to do with him or his flannel clad chest.
But, he's on a mission, intent to change my mind. How far is he willing to go to prove there's more depth to him than meets the eye?
CLIPPED is Live! One-click today of only 99c / 99p!
Purchase Links★ ★ ★ ★ ★
Reviewed by Donna on behalf of KFF
The dynamic writing duo is known for offering hot taboo reads, and Clipped did not disappoint in the slightest. The story captured me from the very first page making me want to learn more about the protagonists, Avery and Wes. It has
a fluidity with an abundance of banter between the two along with
off the charts
chemistry. Male and female authors make up this partnership and I don't know how they do it but they've managed to pull off another captivating story.
Avery left her home town Piney View eight years previous due to her being teased terribly in high school and wanting to make something of herself; however, a family tragedy brings her back to the town she fought so hard to leave. Avery is sassy, strong and can hold her own when it comes to her arch nemesis Wes Steele. She can give as good as she gets and boy, does she stand up to him.
Wes is a lumberjack whose business is called Good Wood Tree Removal Inc. He is a cocky, arrogant alpha who gets a real kick out of winding Avery up. He always did at school and seeing her for the first time since she left town, he can't resist getting under her skin calling her the nickname he gave her all those years ago.  
"Why are you being so nice? Should I be worried?"
"I'm always nice. In fact you haven't even begun to realise how," nice I can be."
I instantly warmed to the supporting character, Lucy who is Avery's sister and happens to be best friends with Wes. Lucy's son, Jeremiah, completely looks up to Wes. Poor Avery,
has
no chance of getting away from Wes as he sees her sister and nephew regularly. Much to her annoyance, more so when she sees a sweet side to him with his interaction with Jeremiah.  There is also a tinge of jealousy
which made me question if her feelings ran deeper than just having a strong dislike to Wes.
"But you and I, we should definitely be more than just friends. Friends with benefits?"
"Ugh. And we've come full circle. A civil conversation did nothing to change how annoying you are."
"You'll fall in love with me soon enough."
"Love? Please, I barely like you."
With so much going on in this story  it was difficult to put down. I was constantly wanting to know where this frenemies storyline was leading to. Lucy unwittingly pushes Avery into helping Wes at the office as he is snowed under with work and in need of a secretary.
I was constantly either smiling or laughing at the two culminating in a lot of hilarious sequence of events that I won't give away as you will have to read it to find out. There is no predictability with the flow of the story at all. I must keep touching on the hilarity of Clipped because that was predominant throughout the story and what I loved is we get a lot of story and depth with the characters that doesn't go straight into sex scenes. The chemistry and build-up made it more about what they are portrayed as people, and how they interact as opposed to just raunchy scenes. Don't be put off though, some of the steamy scenes are very impressive and engaging. Clipped is a must read which deserves five stars. When a story can make me smile and leave me thinking about it long after finishing, it's worth it.
About the Authors
Remy Blake is a bestselling male and female author duo, who paired up to have some fun writing steamy, short reads, with insta love/lust and a guaranteed HEA.
Follow Remy Blake:
GIVEAWAY 
There is a giveaway for a Kindle Fire 7 + a $25 Amazon gift card
(One winner, open internationally)